Panamadera is now accepting pre-orders for Playa Hermosa, a spectacular beachfront eco-community and reforestation project on the Pacific Coast of Panama.
Details Here.

Reforestation investments may achieve long-term returns exceeding the major stock indices and help diversify your financial portfolio.
Details Here.

Panama's Law 24 provides tax and residency benefits for qualified investments in reforestation projects.
Details Here.

Panama is a safe and attractive country perfect for holiday, vacation home, expat living or retirement.
Details Here.

Playa Hermosa >
Management Plan

Park-Like Setting
Along the waterfront, adjacent to streams, around designated home sites, and where existing trees already exist, Panamadera will plant a combination of mixed native species like mahogany, Spanish cedar, and laurel that are chosen for their financial and aesthetic value. Because these trees mature at different rates, owners will be able to harvest species at different times, ensuring the sustainability of the forest. Teak and other exotic hardwoods will be grown plantation style in blocks on land that has already been cleared for grazing. Roads will be constructed to facilitate the planting, maintenance, and harvesting of plants. Panamadera will seek to certify Playa Hermosa's forests with the Forestry Stewardship Council (FSC), ensuring a commitment to sustainable and environmental protection.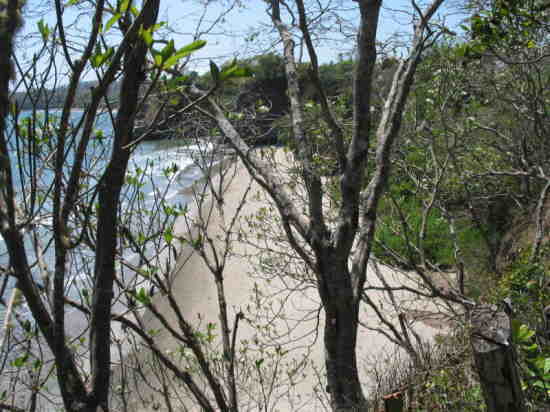 Native trees will be planted spaced 33 feet (10 meters) apart in a mixed manner to restore the existing grazed land to a natural forest state. Mixed native trees will be especially important along the waterfront, home site areas and streams, transforming the current grazing land into a park-like setting as the trees mature. Some of the following native tree species will be planted.
Native Tree Species
| | |
| --- | --- |
| Common Name | Scientific Name |
| Amarillo guayaquil | Centrolobium yavizanum |
| Amarillo | Terminalia amazonica |
| Cedro armago | Cederla odorata |
| Mahogany | Swietenia macrophylla |
| Roble | Tabebuia rosea |
| Rosewood | Dalbergia retusa |
| Laurel | Cordia alliodora |
| Caña fistula | Cassia alliodora |
| Cedro espino | Bombacopsis quinatum |
| Espave | Anacardium excelsum |

Exotic tree species, primarily teak, will be planted in blocks plantation style in areas of land that have previously been cleared for cattle grazing and other activities. Because these blocks are less attractive visually than the mixed native tree forests, we plan to locate them away from the waterfront, streams, and home sites.
Teak will be planted in blocks at 10 feet (3 meter) spacing, which are later thinned to keep only the best trees. Species like neem and acacia may be planted in groves.
Exotic Tree Species
| | |
| --- | --- |
| Common Name | Scientific Name |
| Teak | Tectona grandis |
| Neem | Azadirachta indica |
| Australian teak | Acacia mangium |

Example Eco-Management Plan: Teak Trees
Panamadera will provide Playa Hermosa owners with a management plan that includes each species planted on their property. The following summary plan for teak is illustrative of the expertise and attention Panamadera will provide to the management of the owners' properties. The specifics of this plan may change slightly based on the topography and other characteristics of the land.
Site Preparation and Planting. Site preparation will be done by manual labor using machetes. When the dry season is over, starting in May, sections of the land will be planted from nursery stock obtained locally. Panamadera plans to establish our own nursery to provide for future planting requirements.

Depending upon the pH of the soil, limestone may be applied at the rate of five tons per hectare 45 days prior to planting. A high phosphorous fertilizer 12-24-12 application may be used on the property at the beginning of the rainy season at a rate of six ounces per tree. A high nitrogen fertilizer such as urea may be used at the time of planting at a rate of 4 ounces per tree. The presence of aluminum and iron in the soil may alter these amounts.

Years 1 – 3. Plant teak at spacing of 10 feet (3 meters) apart, or approximately 400 teak trees per acre (1,000 per hectare). Clean teak block by machete approximately once per year in order to prevent weeds and brush from overtaking the new trees. Establish fire lines and access roads. Control harmful insects like leaf cutter ants (Atta sexdens), and replace any defective trees. Fertilize at year three. Prune branches lightly to maintain crown closure, making trees self-pruning and inducing vertical growth.

Years 3 – 6. Thin up to 120 stems per acre (300 per hectare) in order to eliminate defective stems, create canopy openings for crown development, and allow sunlight and air movement in the understory to reduce fungus pest potential. Prune branches to produce clear boles up to 20 feet. Provide maintenance and fertilize as necessary. The harvested tree stems have an estimated value today of approximately $5 each, and can be used for fence posts and other poles.

Years 6 – 10. Thin approximately 80 additional trees per acre (200 per hectare). Maintain and prune as necessary. Estimated value of tree stems is currently up to $10 per pole.

Years 10 – 15. Thin another 60 trees per acre (150 per hectare). Maintain and fertilize as necessary. Expected value today is up to $25 per tree harvested.

Years 16 – 20. Thin 40 trees per acre (100 per hectare). Replant teak to obtain 10 feet (3 meter) spacing in gaps. Manage natural regeneration. Expected value is currently up to $80 per tree.

Years 20 – 25. Selectively harvest remaining trees, leaving the best stems for seed orchard. Replant to fill gaps created by selective harvest.
This management scenario will provide a final stand of about 100 mature teak trees per acre (250 per hectare). With some downstream processing into lumber and basic products such as flooring and decking, these 20-25 year old teak trees can produce up to 350 board feet (0.82 meters squared) per tree, assuming that the seed source genotype matches the environment of the plantation site and that maintenance, limestone fertilization, and pruning are done regularly.

Eco-Management Services and Fees
As part of the purchase price, Panamadera will provide Playa Hermosa owners with titled property planted with mixed native trees and exotic trees within one year (depending upon when rainy season starts, which is optimum time to plant trees) of the date of property purchase. The purchase price includes all maintenance, including the replacement of dead trees and plants, for the first twelve months after the date the owner purchases the property.
Playa Hermosa property owners are required to use the property management services of Panamadera, in order for Playa Hermosa to become and remain certified by the Forestry Stewardship Council.
In order to protect all of the owners of Playa Hermosa, owners who choose to manage their property themselves or via another management company must adhere to the guidelines of the Playa Hermosa Owners' Association.
Tree Management Fees
Panamadera will provide management of the native and exotic tree portion of owners' properties for an annual fee of USD $200 per acre ($500 per hectare), adjusted annually by the local inflation rate. These fees include fire management activities like brush clearing, pruning trees as required, and replacement of dead trees. Fees do not include costs related to thinning or harvesting of mature trees, which are estimated to be approximately 25% of the revenue generated at the time of harvest. Fees also do not include insurance against natural events like fire or insect plagues, which are unlikely but could potentially occur. Management fees are payable at the beginning of each contract year. Under this option, there is no penalty for terminating the relationship, as long as Panamadera is given written notice six months before the annual contract ends.
For owners not wishing to pay an annual fee, Panamadera will contract to provide management services over a 20-year period for a one-time fee of USD $2,400 per acre ($6,000 per hectare) of forested land, payable at the time of closing. These funds will be invested in a dedicated account used by Panamadera over time to cover the cost of management. Fees do not include natural event insurance, or the costs related to thinning or harvesting of mature trees, which are estimated to be approximately 25% of the revenue generated. If the contract is terminated by the owner, the owner forfeits the remaining portion of the prepaid management fees. If Panamadera terminates the contract, any owner funds remaining in the account are returned to the respective owner.
As part of its tree management program, Panamadera will seek to obtain certification of its projects by the Forestry Stewardship Council (FSC). Certification assures that the forest is managed according to sustainable practices, and provides the ability for owners to sell forest products to companies who adhere to FSC standards.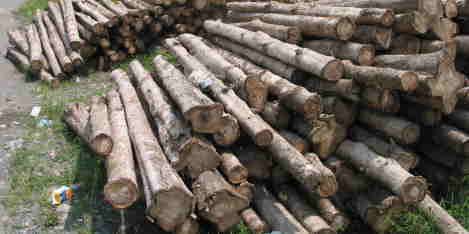 Other management services
Panamadera may provide owners with other management services, including but not limited to the cultivation of medicinal plants on their properties, maintenance of vacation homes, and rental of vacation properties to tourists. These services will be determined in the future in response to owners' needs.

This material is provided to inform potential purchasers about properties offered by Panamadera, S.A., a, Panamanian corporation. This information does not constitute an offer to sell or a solicitation of an offer to buy in any jurisdiction in which or to any person for which such offer, solicitation or sale would be unlawful. The terms and conditions described in this document should be considered introductory, and may be changed without notice at any time.