Panamadera is now accepting pre-orders for Playa Hermosa, a spectacular beachfront eco-community and reforestation project on the Pacific Coast of Panama.
Details Here.

Reforestation investments may achieve long-term returns exceeding the major stock indices and help diversify your financial portfolio.
Details Here.

Panama's Law 24 provides tax and residency benefits for qualified investments in reforestation projects.
Details Here.

Panama is a safe and attractive country perfect for holiday, vacation home, expat living or retirement.
Details Here.

Playa Hermosa > Location

Spectacular Pacific Coast Location
Playa Hermosa is located on the Pacific coast of Panama, about one hour southeast of David by car, and directly to the south of the Inter-American highway. The boat ride from David's Pedregal Port takes about 45 minutes, and is completely protected by islands to ensure a smooth ride. David provides the modern conveniences of Panama's third-largest city, complete with shopping, great restaurants, and medical facilities. Playa Hermosa's access to the Pacific Ocean provides innumerable opportunities for world-class swimming, sailing, snorkeling, scuba diving, and fishing, with close access to the protected Gulf of Chiriqui National Marine Park. Nearby areas to Playa Hermosa are likely to be developed into hotels, marinas, and other facilities that will increase the value of the property.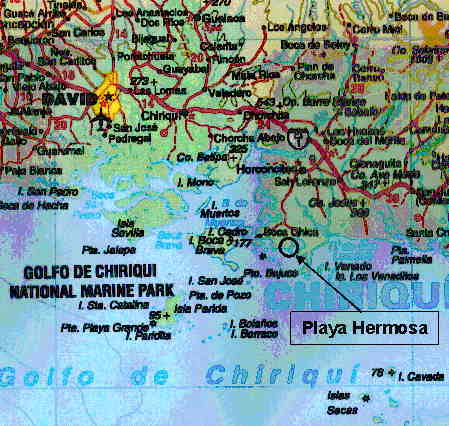 Less than two hours from world-renowned Boquete, Playa Hermosa also offers owners nearby access to a temperate mountain climate complete with tropical cloud forests, diverse flora and fauna, coffee plantations, and spectacular vistas, opening up a wide range of recreational possibilities ranging from boating to scuba diving to horseback riding to hiking to bird watching and much, much more.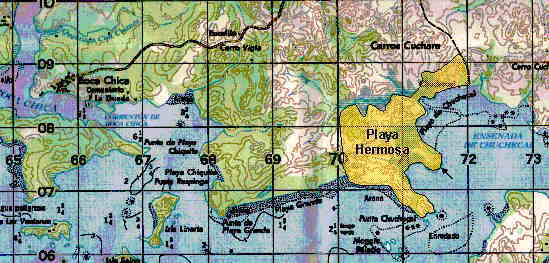 Playa Hermosa's extensive grounds include over three miles of Pacific coast waterfront, extending from the top of Chuchecal Bay, around Punta Chuchecal, and along the Pacific Coast to Playa Grande. The interior of Playa Hermosa includes cleared cattle grazing land, mixed forests, mangrove lowlands, and stream estuaries. Panamadera will be restoring existing woodlands using mixed native species, and reforesting the grazed land with high-value exotic hardwoods.

This material is provided to inform potential purchasers about properties offered by Panamadera, S.A., a, Panamanian corporation. This information does not constitute an offer to sell or a solicitation of an offer to buy in any jurisdiction in which or to any person for which such offer, solicitation or sale would be unlawful. The terms and conditions described in this document should be considered introductory, and may be changed without notice at any time.